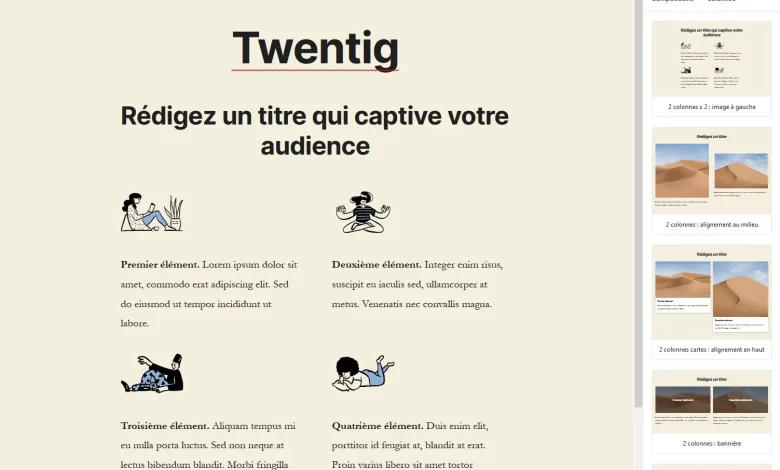 The default WordPress theme Twenty Twenty as you've never seen it before!
The free plugin Twentig helps you customize the Twenty Twenty theme To your liking… Use more Google Fonts, dozens of colors and many other options. With the help of Twentig plugin enhanced Gutenberg blocks and pre-designed block templates, it's easier than ever to build impactful pages.
As the new default WordPress theme (Twenty one) approaches, the Twentig plugin breathes new life into last year's theme. The developers behind the plugin quickly fix any bugs and regularly bring new features to users. Out of its 34 reviews on WordPress.org, Twentig has a rating of five out of five stars. Nice score for a plugin with only 4,000 active installations.
Twentig plugin offers advanced features to customize Twenty Twenty, the most popular WordPress theme – making it the perfect combination to build your WordPress site.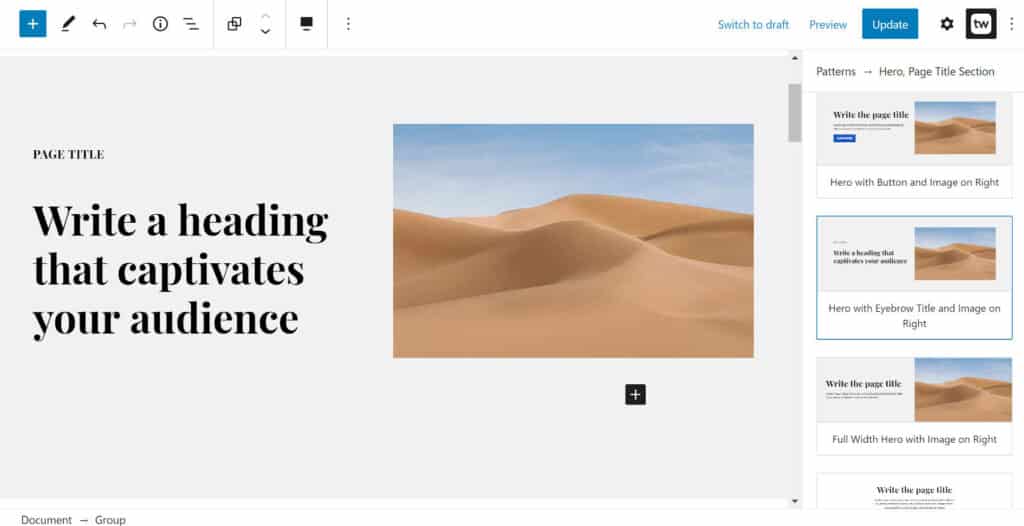 Create your WordPress with Twentig & Twenty Twenty
From advanced options for Twenty Twenty, to enhanced blocks, to pre-built templates, you have everything you need to create a modern, beautifully designed WordPress site.

Advanced customization of Twenty Twenty
From displaying blog posts in a grid, to a fixed header, to a footer layout, Twentig gives you endless possibilities for Twenty Twenty.
Change the look of your website by customizing fonts, colors, styles, 404 page, and more.
Twentig for creative freedom
Custom page templates give you complete control over the appearance of your page. Now you can easily remove the page title, header, footer or even set a transparent header for complete creative freedom.
Custom design
Twentig improves the design of the Twenty Twenty theme. Ready-made block settings and page templates are designed specifically for Twenty Twenty, so it's easier than ever to create beautiful pages.
Going further with integrated blocks
Twentig enhances the basic WordPress blocks, taking the block editor to a new level of design and creativity.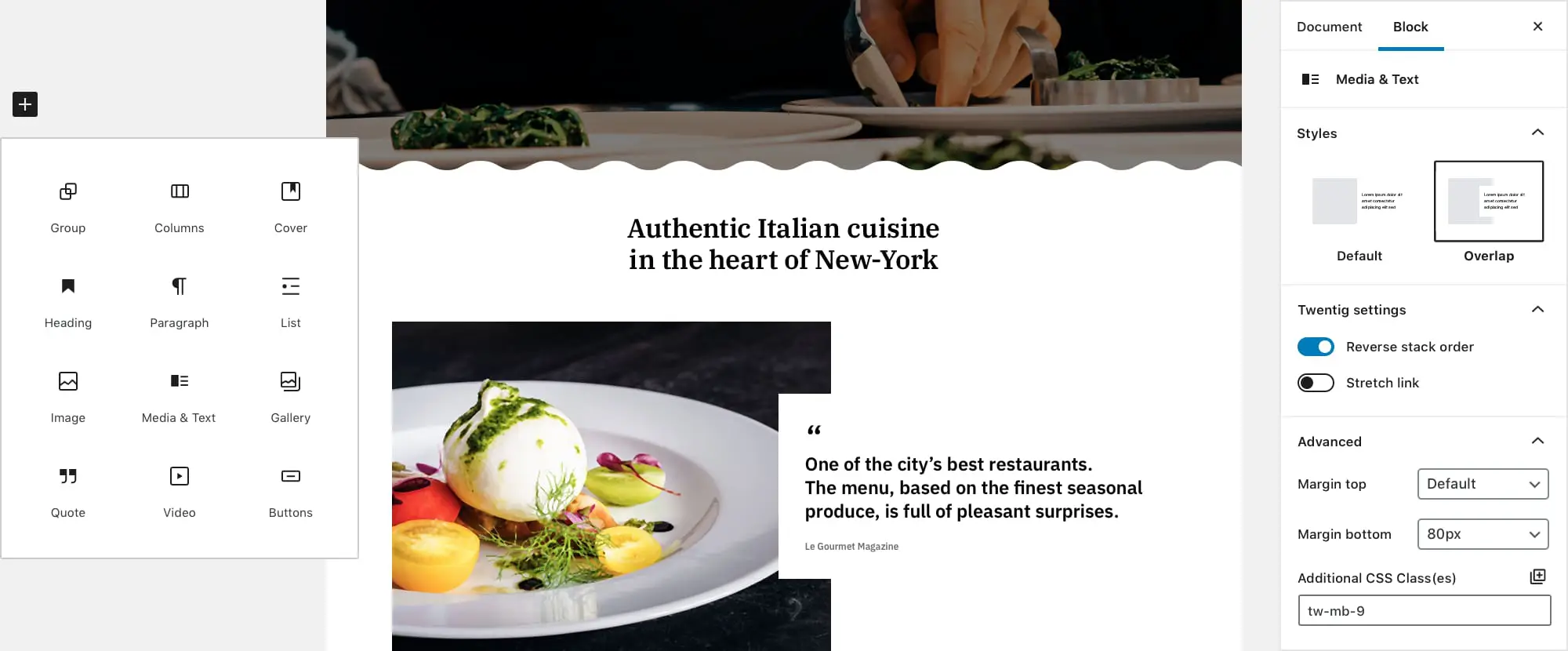 Ease of use
An optimal amount of features added to the basic WordPress blocks. So, you can easily customize your blocks according to your needs in a few clicks. And enjoy a smooth yet familiar experience.
Powerful features
Twentig offers additional styles, advanced block settings, margin settings and CSS classes. From column styling, to group separation shapes, to typography settings, you have the best tools to make all your pages look great.
Create your pages in one click thanks to pre-designed templates
Twentig offers hundreds of ready-made page compositions and templates, so it's easier and faster than ever to create beautiful pages.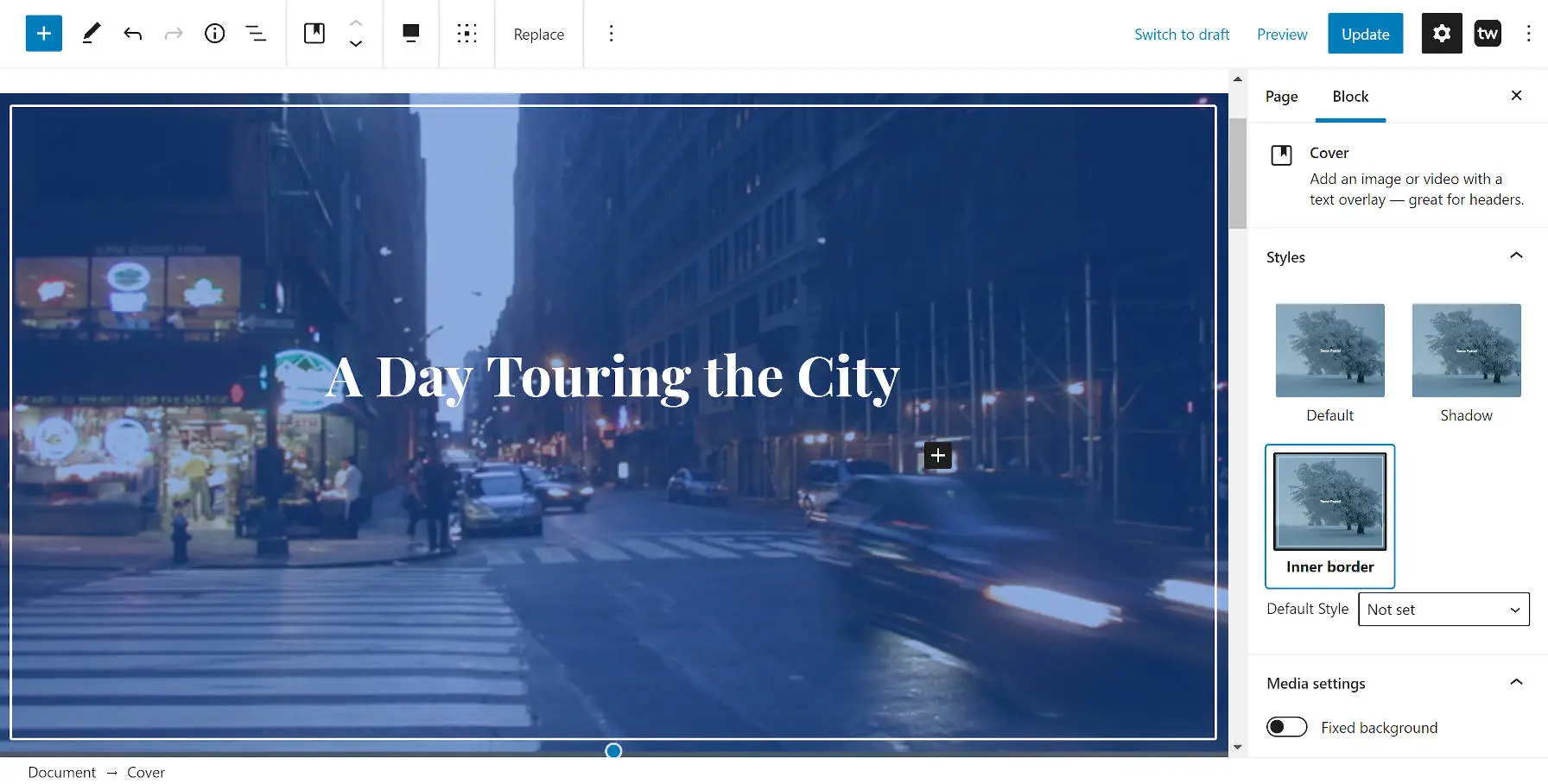 Flexible templates
Choose from a variety of versatile page layouts and templates that you can combine and adapt to your project. The template library allows for a wide range of uses and endless design possibilities.
Professional design
Designed by award-winning designers, Twentig templates are optimized for mobile devices and instantly give your pages a professional look. You don't need coding and design skills to create the WordPress site of your dreams.
So Twentig offers free advanced features that allow you to customize the Twenty Twenty theme the way you want. With Twentig, you have everything you need to make your website stand out.
AMP compatible, fast with light and clean code, Twentig is simple and easy to use. Check out the free Twentig plugin today to take your Twenty Twenty WordPress theme to the next level!